Today, the installation of pot lights in Toronto has increased in homes, open spaces, etc. Are you planning to installation pot lights for your home in Toronto to light your home? So stay with us until the end of this article.
Installing pot lights are usually installed when there is no room for ceiling fans or other ceiling fixtures such as chandeliers, as they take up less space than other fixtures.
Also, installing pot lights provides additional light without taking up space that can be used for other home items such as artwork or furniture.
If you need pot lights for your home or commercial building in Toronto, call our experts at Bondelectric at 647.530.2704 or email info@bondelectric.ca for more advice.
Services of Bond Electric company in installation pot lights in Toronto
Bondelectric is a leading electrical installation company based in Canada. Also, Bondelectric has a full license to carry out all kinds of electrical installations, including lighting and heating in domestic and commercial places in Canada.
Since 1996, Bondelectric has been providing electrical services in Canada. Bondelectric offers a wide range of electrical services including commercial and residential wiring services, boiler light installation and more.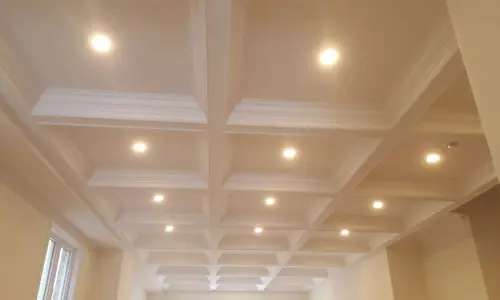 Pot lights can be installed by homeowners themselves, but it's best to use a professional electrician like Bondelectric to avoid potential problems like wiring problems or fire hazards due to improper installation. Our electricians will ensure that your pot lights are installed correctly so that there are no problems in your home or commercial property.
Bondelectric services include:
Pot lights installation in Toronto
Upgrade electrical panels
Replacing the fuse box
Installation and repair of lighting equipment
Installation of voltage protection
The importance of installing pot lights in Toronto
Pot lights are becoming more popular among customers day by day, as they have become one of the easiest ways to create natural light in homes.
Installing pot lights, also known as recessed lighting, can be installed in almost any room of your home. They can also be used in the kitchen, bathroom, living room and dining room to create a warm and welcoming atmosphere.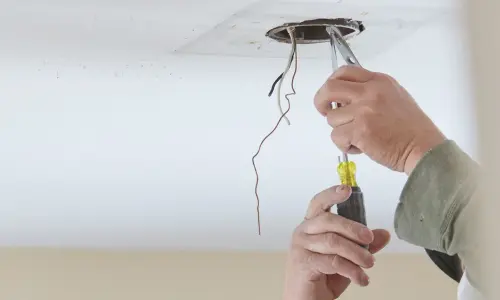 That being said, pot lights are a great way to light up your home and look great too. They are easy to install and can be used anywhere you need more light. The most common places to install pot lights are:
Halls
stairs
Kitchens
Bathroom
Bedrooms
Toronto pot lights installation cost
An important question that customers ask is how much does it cost to installation pot lights in Toronto?
The cost of installation pot lights can vary greatly depending on where you live in Toronto, but generally ranges from $150 to $300.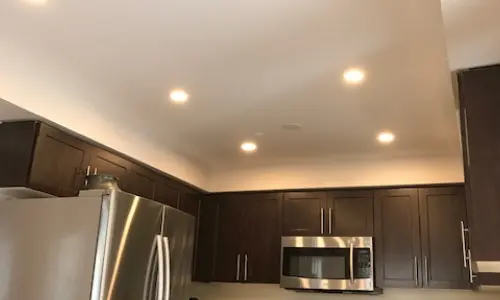 Installing pot lights is a very simple process that only takes a few minutes. In general, it can be said that the cost of installing pot lights can vary depending on various factors, including the location and complexity of the work.
However, on average, a typical installation costs between $500 and $1,500 for one light plus two bulbs (roughly $250 to $750 per bulb). The exact price depends on how many lights need to be installed and how much labor is required for each.
Factors affecting the cost of installation pot lights in Toronto
There are several factors that determine how much it will cost to install pot lights in your home or business. This includes:
Size of area that needs light: Pot lights range from one to three feet in diameter, so you need to consider how much light is needed for each room or area.
For example, if you want to have a few pot lights in an average 16 x 12 room, one or two lights will do. But if you want 15 bulbs in a 40×15-inch deck, you'll need more than 30 pots to light that area.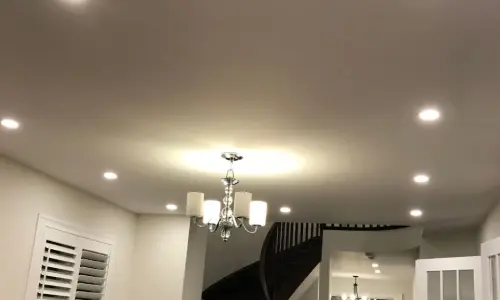 Where it needs light: Where you place your pot lights also makes a difference in their cost. For example, niches are often used as a place to install lamps because they shine so brightly at night when everyone comes home from work or school.
In the end
We hope that by reading this article, you have obtained useful information regarding the installation of Toronto pot lights. Please share us with your Facebook friends and Twitter followers and as always we look forward to your questions and comments.