Bandelectric is ready to help and provide the best building electrical wiring services in Canada to you dear customers. Bandelectric offers a wide range of electrical services including residential and commercial electrical wiring.
Our experts in this field will help you solve your building's electrical wiring problems by providing designs that best suit your needs.
Building electrical wiring is a process that includes installing devices and appliances such as lights and switches to provide light, power and temperature control in homes.
It can also include the installation of lighting systems such as ceiling fans, recessed lighting, lighting and chandeliers.
Bondelectric is a licensed electrical contractor with years of experience providing electrical services in Canada. We provide a variety of electrical services to residential and commercial customers across Canada.
How is building electrical wiring in Canada?
In Canada, building electrical wiring is a continuous process of developing and installing electrical equipment in the building structure. There are many different types of building electrical wiring that can be used to power almost any piece of electrical equipment anywhere in the world.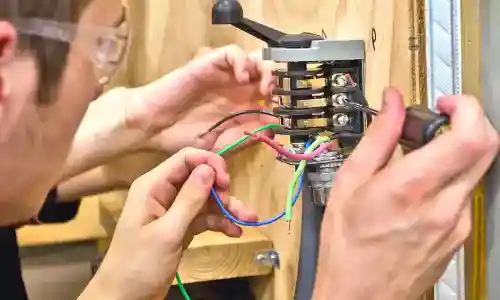 Electrical wiring of all buildings in Canada is also difficult and time-consuming, so you should look for an electrical wiring specialist in Canada to wire your building.
What is the best electrical wiring in Canada?
Bandelectric offers the best electrical wiring in Canada. We pride ourselves on providing quality service to our customers.
If you are thinking of building or renovating your home and electrical wiring is part of your renovation plan, contact us now. We are the best and most reliable electrical wiring for your homes in Canada.
Our customers have high expectations from Bandelectric as the best building electrical wiring in Canada. When you choose us, you can be sure that your electrical work will be done by an experienced electrician who knows how to meet your expectations as well as maintain his reputation.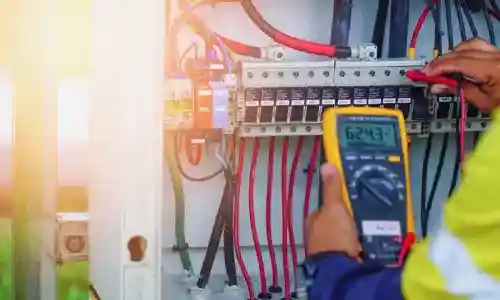 You, dear customers, can trust the best building electrical wiring in Canada, Bandelectric, we also offer a wide range of services such as indoor and outdoor lighting, AV systems, security cameras, etc.
No matter how big or small the wiring project, our team will design and install the wiring for your building. We can do all building wiring in Canada and we guarantee the quality of our work.
How is the electrical wiring of houses in Canada?
All homes in Canada have the same wiring. Each house has the same connections on the main panel. Fireplaces and other electrical appliances connected to the house are also connected to the main panel.
It can be said that in Canada, all electrical outlets are connected to an adapter box in the basement. Inside the house, the wires are drawn from this box to various sockets and plugs on the wall. The cable usually runs from one outlet in the basement to another outlet elsewhere in the house.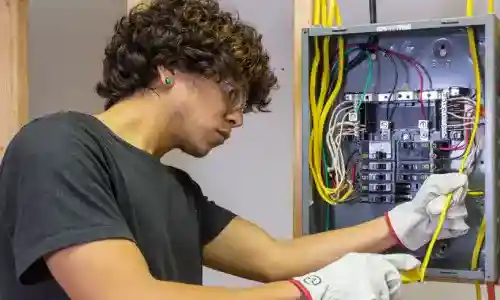 Wiring homes in Canada is similar to homes anywhere else. It's basically a fireproof bundle of wires and cables that carry electricity to all the different rooms and appliances in your home and is powered by a circuit breaker or fuse panel.
Electrical wiring services in Canada
Looking for building electrical wiring services in Canada? Contact us now! Building electrical wiring services in Canada is our specialty. The electrical system of your home or workplace has various components, each of which plays a vital role in the safety of you and your loved ones.
When you need specialized electrical services from a company you can trust, Bandelectric is ready to meet your needs. As we said, we offer professional electrical wiring in Canada and have experience working with a variety of clients and businesses.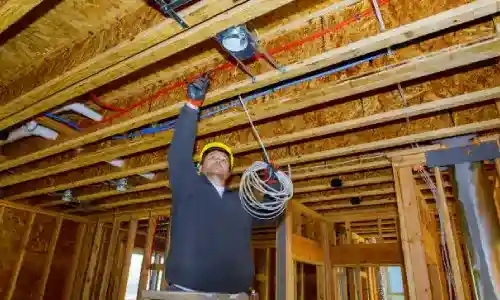 Our experts at Bandelectric offer a full guarantee and warranty on building electrical wiring services in Canada from the time you call us until we complete your job. We take this very seriously to ensure that our customers are completely satisfied with the work done.
Bandelectric also provides electrical wiring services for buildings and commercial organizations in Toronto as well as surrounding areas.
Conclusion
Bandelectric Building Electrical Wiring Services in Canada has been providing customers in Canada with quality, innovative and reliable electrical circuits for over 25 years.
Bandelectric's experienced professionals design a professional electrical wiring plan for your building project. You can trust our team and our past clients and projects as we have successfully completed thousands of projects across Canada since 1990. So call this phone number (002) 123-4567 now and connect with our experts.
How much does it cost to rewire electric a building in Canada?
Older wiring systems will often result in more work for the electrical contractor. As a result, the typical cost of rewiring a small home is approximately $1,500 to $3,000, an average size home is $3,500 to $9,000, and a smaller home is approximately $9,000 to $25,000.
Do I need a skilled electrician to rewire the building?
Yes. You will need a professional electrician to rewire electric your building. Bondelectric company experts in Canada will help you in this field.
How are houses wired in Canada?
The wiring of homes and commercial buildings in Canada is split single phase, 240 volts, with a neutral and two hot poles, 240 volts to each other and 120 volts to the neutral. Also, the most common three-phase system has three hot legs, each of which has 208 volts to each other and 120 volts to neutral.